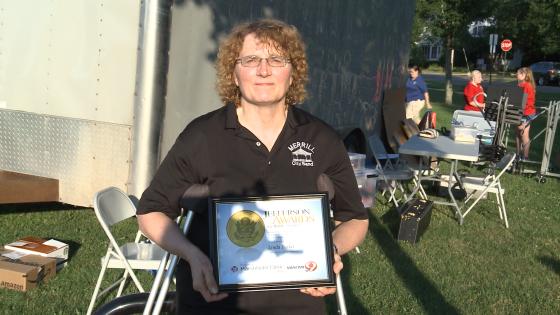 19 Aug

August 2016 Jefferson Award Winner: Merrill city band director

MERRILL (WAOW) – A music teacher who has volunteered to direct the Merrill City Band for 37 years says her reason for it is simple.

"It is so much fun. The people make it fun and I really enjoy being a part of the group." Linda Becker said Wednesday before her 75-member band performed another free concert on a hot and humid summer night at Normal Park.

A large crowd showed up to listen.

One band member says Becker – given the August Jefferson Award that recognizes outstanding volunteer work – makes a "huge difference" in the band and in Merrill.

"I don't think many people know how much Linda does in the community, outside of her volunteer work with the band," Helen Ourada said.

She helps coordinate Make a Difference Day activities like raking in the community and organizes filling backpacks with school supplies for children in need.

The community Memorial Day ceremony and parades in Merrill and Tomahawk get her help.

Right now, she is overseeing a $506,000 fundraiser for Normal Park and the city band.

"We want to add restrooms, plants and grass and develop it. Plus, we need to buy equipment for the band because we have relied on schools so much," Becker  said.

Her drive to volunteer stems from her childhood.

"I grew up in a family that volunteered, especially my dad. It just feels to be a part of something you love," she said.